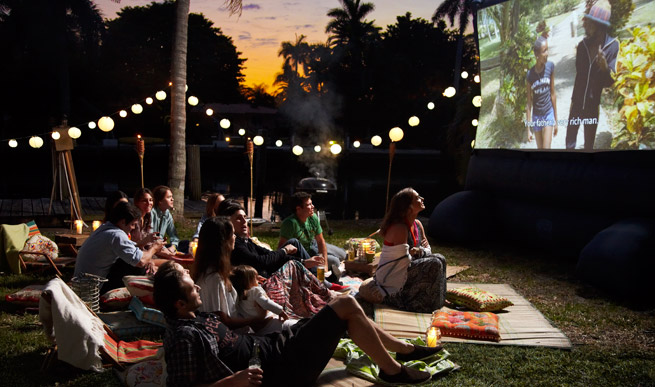 Instead of getting inside your car and driving to your nearest local cinema; why not just head to your backyard instead? Instead of lining up for tickets that are good for only one movie; how about having unlimited access to your very own personal movie theater—at home?
Backyard Theater
In a way, having your own backyard theater saves you from a lot of hassle. What's even better is that you can freely invite your friends over without having to worry about anything. From food to movies, everything's basically free.
Now, you might be wondering as to how these home backyard theaters work. Basically, they're just similar to indoor home theaters except they are situated in a more unique place—your backyard. The backyard is a good venue since it gives you that movie night chill feels. It's definitely something worth investing in.
For some people, they opt to outsource and hire professionals to set up some furniture and other things; however, another option to install a backyard theater is setting it up yourself. As long as you have a credible and easy-to-understand guide, you won't have much problems doing it by yourself. That being said, let me hand over some tips that could be helpful when you're setting up and hosting movie parties in your own backyard theater.
Tips
Please refrain from using a television in your backyard theater. Doing so will only risk damages to your television since drastic changes in the weather may have a bad effect on it. Instead, go for inflatable screens or you can even make your own screen by using a canvass, an empty wall or a cloth.
It's better to have portable screens just in case you'll have some change of heart when it comes to the positioning of the theater.
Try to secure more than one speaker. However, if your sole speaker is of superior quality then forget about securing other speakers. Do so if one speaker is not enough for the entire audience to hear. Opting for surround sound is also an assurance of a better movie night experience.
Consider the lighting that surrounds your backyard—check if there are street lights or neighboring lights that may affect your home theater. If there are any, try to position your home theater in such a way that the lighting won't be a disturbance.
Make sure you have extension wires; they will definitely be useful especially if sockets are located a bit farther.
Debug the place before an actual movie night. Bugs will only make everyone feel uncomfortable–throwing a movie night might just end up useless as everyone might want to stay inside the house instead.
Inform your neighbors about your upcoming movie night just so they won't call the cops when they hear people scream in the middle of some horror movie.
Do adjustments whenever necessary. To give your friends and family the best experience, try to move your projector forward or backward to and from the screen in order to adjust the size and resolution of what is projected onto the movie screen.